Published date: November 2, 2023
Major News on Point of Sale Tax Credits
Major News on Point of Sale Tax Credits
The landscape of the car sales industry is about to undergo a significant transformation! The U.S. Department of the Treasury and the IRS have launched a new initiative allowing car dealers to receive direct tax credit payments for clean vehicles.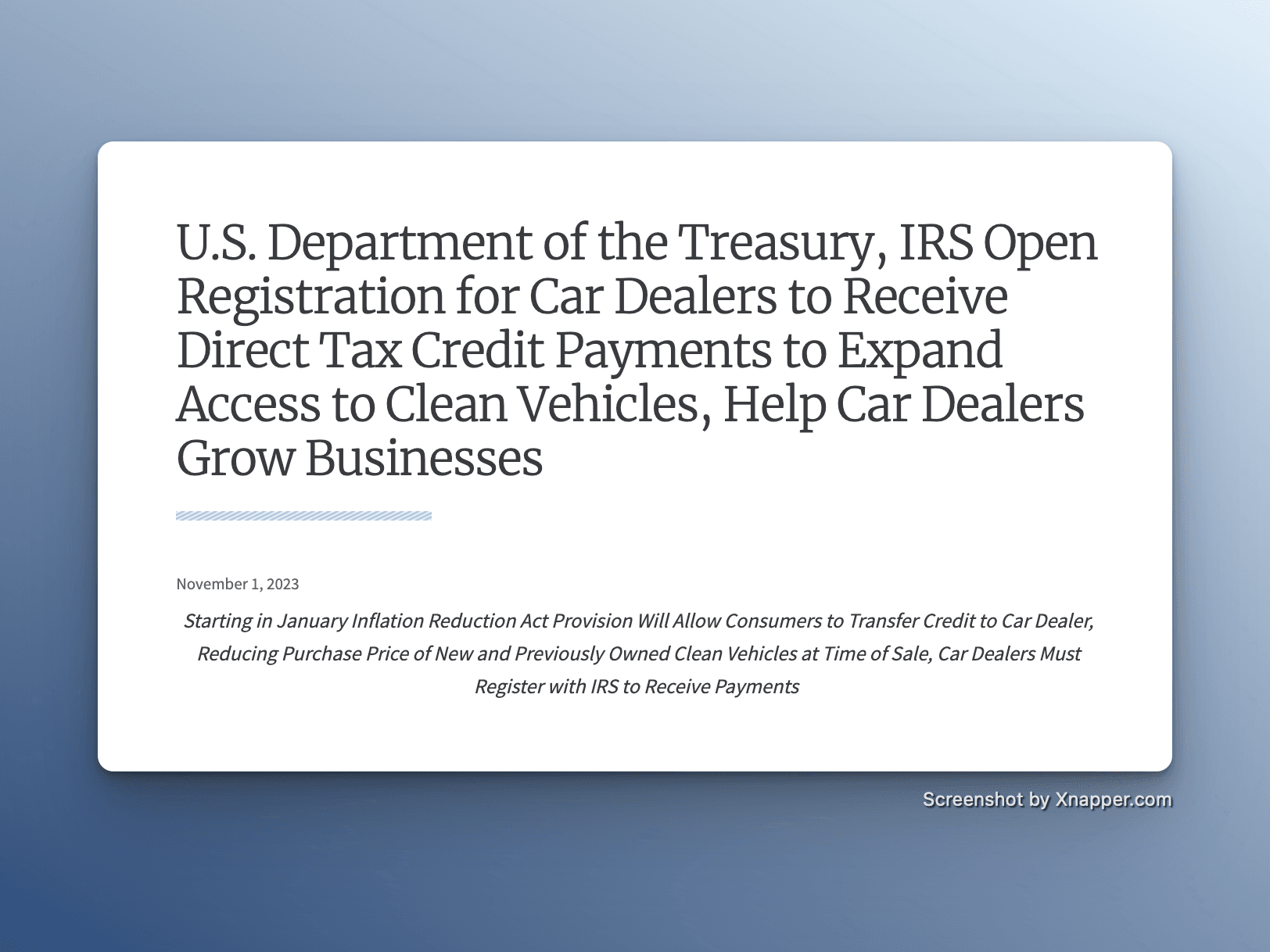 In a groundbreaking move that's set to boost the clean vehicle market and aid car dealers, the U.S. Department of the Treasury and the IRS have officially opened registration for car dealers to directly receive tax credit payments. This initiative is designed to expand access to clean vehicles and support car dealers in their business expansion endeavors.
---
Starting from January 1st, the process is set to be seamless for both buyers and dealers.
Here's how it works:
When a buyer decides to transfer the credit, dealers who are registered can either reduce the vehicle's purchase price or provide the buyer with cash. The catch? The amount given must be equivalent to the full tax credit available for that particular eligible vehicle.
After the sale is completed, dealers are required to electronically submit detailed information about the credit transfer. This includes a time of sale report which will be essential for dealers to receive an advance payment corresponding to the value of the credit.
What's even more impressive is the IRS's commitment to efficiency. They have promised to issue these advance payments in a record time of just 72 hours.
For those keen on diving into the nitty-gritty details of this initiative, the official press release is available here.
This move is expected to revolutionize the car sales industry, making clean vehicles more accessible to the public while providing dealers with an incentive to stock and sell them. It's a win-win for the environment and the economy.
Subscribe for more EV news
Get our free, 5 min weekly newsletter. Read by 2,000+ people curious about Electric Vehicles