Switching to an EV is easy
The electric driving experience is new for most Americans. Choosing a plug-in hybrid prepares you for this next step.
By partnering with dealership across the U.S, we guide you through your electric journey and give you the best electric car purchasing experience possible.
Let's make you EV-ready.
Find your next plug-in hybrid
Jeep Wrangler 4xe Rubicon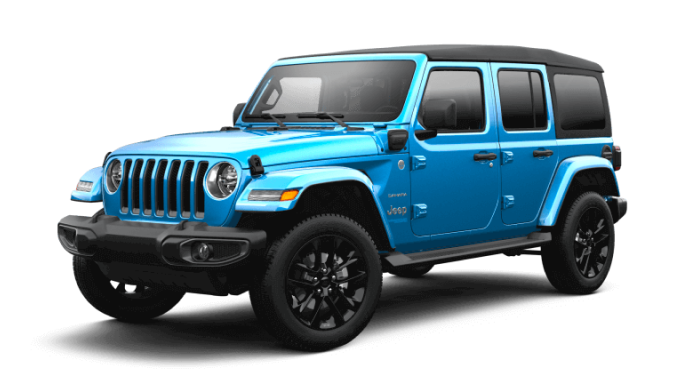 Purchasing a car with an electric motor is unique. Factors such as range, battery size, and charging times play a big role in making a purchasing decision. Lectrium and Matt Blatt Chrysler Dodge Jeep Ram are partnering together to ensure you have all the information necessary to make an informed decision about your electric car.
Through its great people, process and prices, Matt Blatt provides you the quality service and support you need. Choose from premium plug-in hybrid models with impressive off-road capabilities, Jeep Wrangler 4xe and Jeep Grand Cherokee 4xe:

Jeep Wrangler 4xe:  49 MPG (miles per gallon) using both gas and electric motors
Jeep Grand Cherokee 4xe:  56 MPG (miles per gallon) using both gas and electric motors
And the EV journey doesn't stop once you purchase your car. Lectrium makes your home EV-ready by providing faster at-home EV chargers and reliable EV charger installations, so that you can wake up every morning to a full battery.
Learn more here.
the dealership
About Matt Blatt Chrysler Dodge Jeep Ram
Matt Blatt Chrysler Dodge Jeep Ram is located in Philadelphia and is a part of the larger family-owned auto group, Matt Blatt Dealerships. With over 30 years in business, their team takes a customer-first approach to car selling, ensuring a smooth car purchasing experience, certified technicians and transparent pricing.
Find great deals on both new and used vehicles at their dealerships, and top-notch trading services.
24/7 customer support
Purchase 100% online with home delivery
Free Carfax report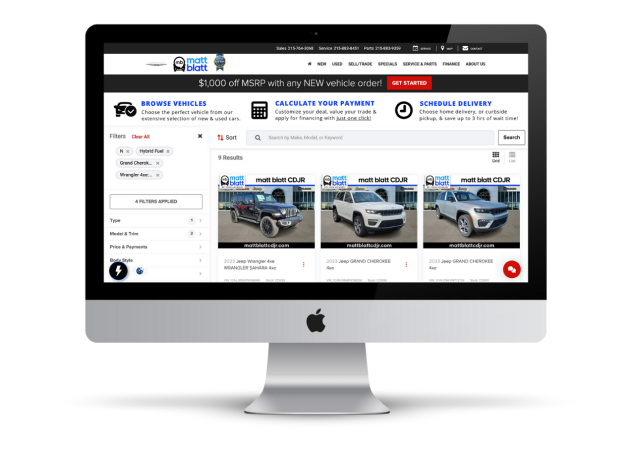 Why LeVEL 2 cHarging?
Looking for an EV charger for your home?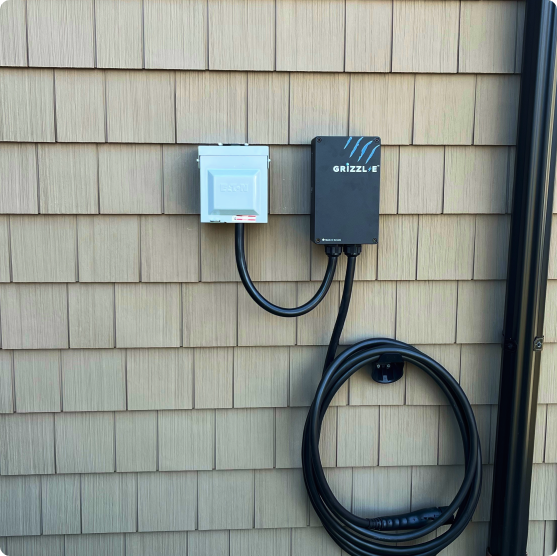 When making the switch to an electric vehicle it is important to think about your lifestyle and how much you drive on a daily basis. Additionally, understanding the vehicle's range, or how far your EV can go in one single charge, will allow you to make a decision on what type of EV charging makes sense for you. For many, Level 2 charging from home is the most convenient.
Lectrium offers different Level 2 chargers for different needs - from smart chargers that allow you to manage your charger from a mobile phone to chargers that can change two EVs simultaneously, we work with you to understand what makes sense for you and your lifestyle.
Our installers have experience installing Wallbox, Juicebox and Grizzl-E chargers, amongst other EV charger brands. Ready to get started Order your preferred charger directly on our site and take our survey to get your installation quote.